Real Lean, Leadership and Innovation.
Staying ahead of the times.
Doppio evento:
Vicenza – 5 giugno
In collaborazione con Confindustria Monza e Brianza: Monza, 6 giugno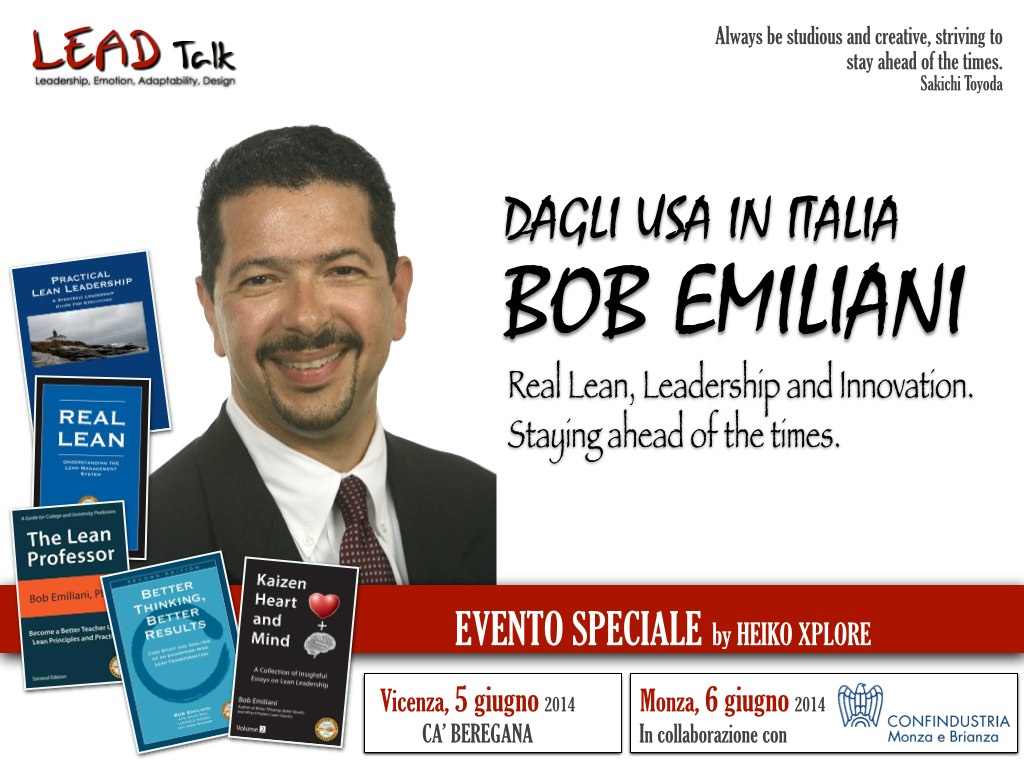 "REAL LEAN e Fake Lean (Lean Vera e Lean Falsa) sono i termini con cui identifichiamo due ampie categorie nell'applicazione del Lean management. La Lean Falsa si riscontra quando viene attuato soltanto uno dei due principî fondamentali della Lean, il "Miglioramento Continuo", di solito limitato agli strumenti. Ora, gli strumenti piacciono a tutti. Sono facili da capire e facili da usare e funzionano. Se la Lean fosse tutta qui, le storie di successo aziendale si conterebbero a centinaia. Invece sono poche."
(Bob Emiliani)
La Lean è ormai di moda. Tantissime sono le aziende che in qualche modo cercano di applicare le tecniche e gli strumenti sviluppati oramai più di 30 anni fa.
PERCHE' SONO COSI' POCHI I CASI DI SUCCESSO DI IMPLEMENTAZIONE DELLA LEAN?
QUAL E' L'INGREDIENTE MANCANTE?
LEAN, LEADERSHIP, INNOVAZIONE, come si collegano tra loro?
Un pomeriggio con Bob Emiliani e Massimo Torinesi per riflettere su questi temi.
VI ASPETTIAMO!
Per richiedere la Brochure : info@heikoxplore.com