'Prepare to make sail, weigh anchor, split-quick… as you do, you know how.'
(Captain Jack Sparrow. Pirates of the Caribbean)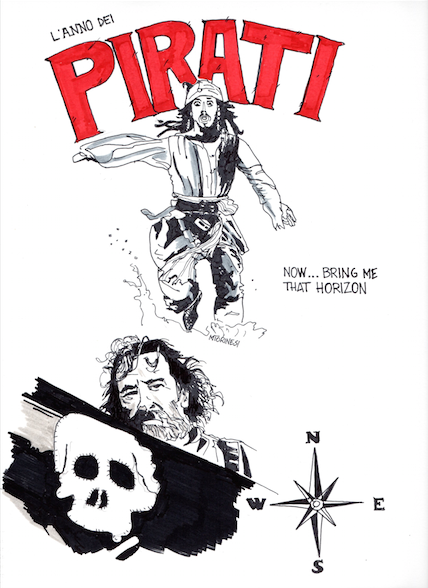 Happy New Year! Heartfelt wishes to one and all for a fantastic 2015, the Year of the Pirates!
My purpose here is not to sing the praises of miscreants, but to use Pirates as a metaphor. There have been many pirate themed blockbusters over the years: The Crimson Pirate starring Burt Lancaster; Walt Disney's Adventures of Peter Pan with the unforgettable Captain James Hook; Hook with an outstanding Dustin Hoffman as the famous Captain and Robin Williams as Peter Pan; Pirates with the great Walter Matthau; up to today's triumphant Pirates of the Caribbean movie series with the amazing Johnny Depp in the role of Captain Jack Sparrow.
In 1983, in the initial phase Apple's history, Steve Jobs hoisted up the Jolly Roger – the notorious pirate skull and crossbones flag – outside his office where the first Mac was being developed, implying that a 'band of pirates', of 'different' and somewhat rebellious thinkers, was designing a revolutionary product beyond the confines of the bureaucratic structures that characterised Apple back then. Apple's pirates thus echoed another well-known team of innovative thinkers at Lockheed, who had chosen a skunk for their logo, later calling themselves Skunk Works.
The Jolly Roger, flown at masthead, was a clearly identifiable symbol recognized by all seafaring ships in pirate times. Thanks to fiction and film, its evocative power has endured unscathed down the centuries to this day. A perfect example of a 'brand' ingrained in the imagination. An example that should be studied in depth by brand strategy and awareness experts.
In our collective imagination, Pirates represent transgression from the norm, bonhomie and exploration. And it is to this metaphor that I wish to return in this first blog entry of 2015 because we are indeed in need of Pirates with the courage to think and act differently.
The world, markets and business are changing at lightning speed and many companies will disappear. Why? Because they can't make it. They aren't capable of being truly innovative. They persist with the same, old reasoning. They don't want or don't know how to change. And change requires effort. Great effort.
Some phenomena are by now widespread, intersecting numerous sectors transversally: mass customization, the continued increase in the speed of business and the vertiginous increase in the amount of products. Making a difference in such dynamic markets is highly demanding.
But possible.
In my first musing of the year, I have chosen not to highlight the many things we accomplished in 2014 – though very recent, they are, of course, of yore – and to look ahead to new horizons. This year we will accomplish more things in our continued search for new roads and routes to direct those who really do want to innovate towards.
The end of the old year and the dawn of the new also serve for putting things into perspective which, during complicit, end-of-year vacation time detachment from daily routine, we can observe with greater serenity and perhaps also with more objectivity.
What matters when reinventing an organisation? Is it about changing what is no longer adequate? Incremental improvements aren't enough. Something different and more profound is required.
Could it be that we need new maps? No. We need another instrument to navigate such perilous seas.
'The map has been replaced by the compass.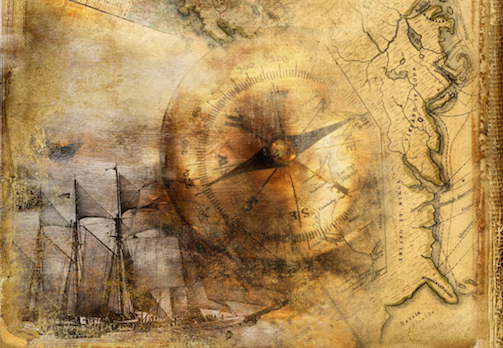 The maps keeps getting redrawn, because its cheaper than ever to go off-road, to develop and innovate and remake what we thought was going to be next. Technology keeps changing the routes we take to get our projects from here to there. It doesn't pay to memorize the route, because it's going to change soon.
The compass, on the other hand, is more important than ever. If you don't know which direction you're going in, how will you know when you're off course?
And yet…
And yet we spend most of our time learning (or teaching) the map, yesterday's map, while we're anxious and afraid to spend any time at all calibrating our compass.'
(Seth Godin)
This is why we have chosen the compass as our symbol. It doesn't indicate a precise path, which can constantly change, but determines our direction. The compass determines our position in relation to the four main cardinal points. It can be used in all territories and circumstances. It gives us the necessary direction. The route may change but not the direction.
To be a good pirate you need a compass, to define the cardinal points and decide on a direction and stop using yesterday's outdated map.
We need new ideas, new behaviors, to demolish the walls of orthodoxy and attack those galleons of old tat we have been lugging around. We need new strategies to develop new products and new businesses and to succeed at getting our people on board. In other words, may this be a year of genuine and deep innovation. Many people have finally got it, albeit a little late, and are bringing people back to the core. We think we have been, if not the first, then certainly among the forerunners in indicating, not only in theory but also concretely in practice, how much of a strategic resource people working in companies are.
May 2015 be a year of strategy, giving the future form and substance, so as to be successful and to be winners.
Many of your skills, and those of your people, will soon be outmoded and no longer adequate and so I hope that in the new year you will experience moments of learning, which must be structured and ongoing. These moments of learning will then also need to be followed up with situations enabling people to experiment what they have learned, thereby creating a virtuous cycle of experimentation, learning and experimentation.
The leadership role is fundamental in making the research and exploration we so greatly encourage possible, and especially so in creating environments where people can join in. In order to create such environments, may 2015 be a year of the design of new leadership models. Models that do not block but facilitate. Models based on concrete, common values that are totally worth committing to.
This is our good wish, our work plan and manifesto for the year that has just begun. The Year of the Pirates!
So be then a little pirate-like and explore, innovate and change.
'Be always like the sea which dashed against the rocks always finds the strength to try again.' (Jim Morrison)
'Prepare to make sail, weigh anchor, split-quick… as you do, you know how.' And in case you don't, we are here ready to help and fight with you.
Here's to a good start… full speed ahead!
Massimo