Play a new music. Organizations and people that think differently.
It's been an incredible week with Bob Emiliani, over from the States, a week full of ideas, events and people, sharing intensive days of work, meetings and emotions.
Jazz also reminds you that you must work things out with other people. It's hard, but it can be done. When a group of people try to invent something together, there's bound to be a lot of conflict. Jazz urges you to accept the decisions of others. Sometimes you lead, sometimes you follow—but you can't give up either role. It is the art of negotiating changes with style. The aim of every performance is to make something out of whatever happens—to make something together and be together.
 
(…) If I wanted to improvise something that made sense, I had to identify what in me deserved to be shared with others. But at the same time I came to a new awareness of others, because my freedom of expression was directly linked to that of my colleagues on stage. I had something to say, and so did they. The freer they were, the freer I was, and vice versa. We had to listen to one another in order to express ourselves. Very carefully. And to play well we had to trust each other.
Of course I'm talking specifically from the viewpoint of a jazz musician, but the same goes for anyone listening. Jazz holds the same value for both the musicians and the audience because the music, bound as it is to feelings, to the uniqueness of the individual and group improvisation, provides answers to the fundamental problems of life. The greater the attention paid, the greater the benefits. As in a conversation, the musician can tell when people are listening: inspired listening corresponds to inspired performance.
(Wynton Marsalis – Moving to Higher Ground: How Jazz Can Change your Life)
SPEED LEADERSHIP
Two days with a group of business owners and managers, in a workshop led by Bob, breaking down the abstract concept of leadership.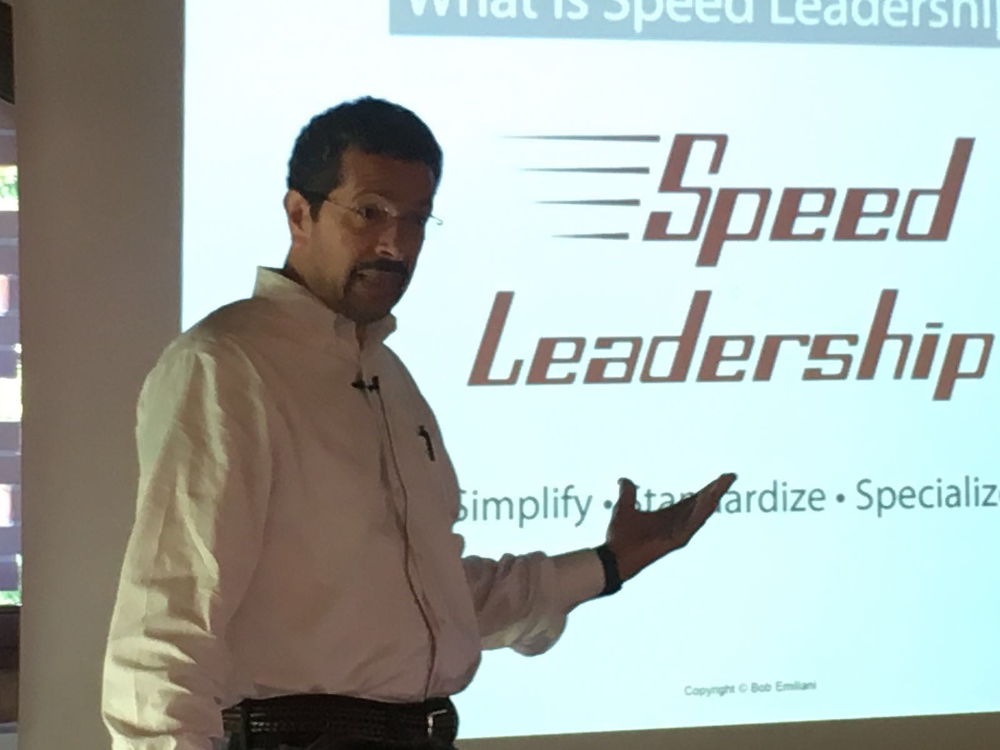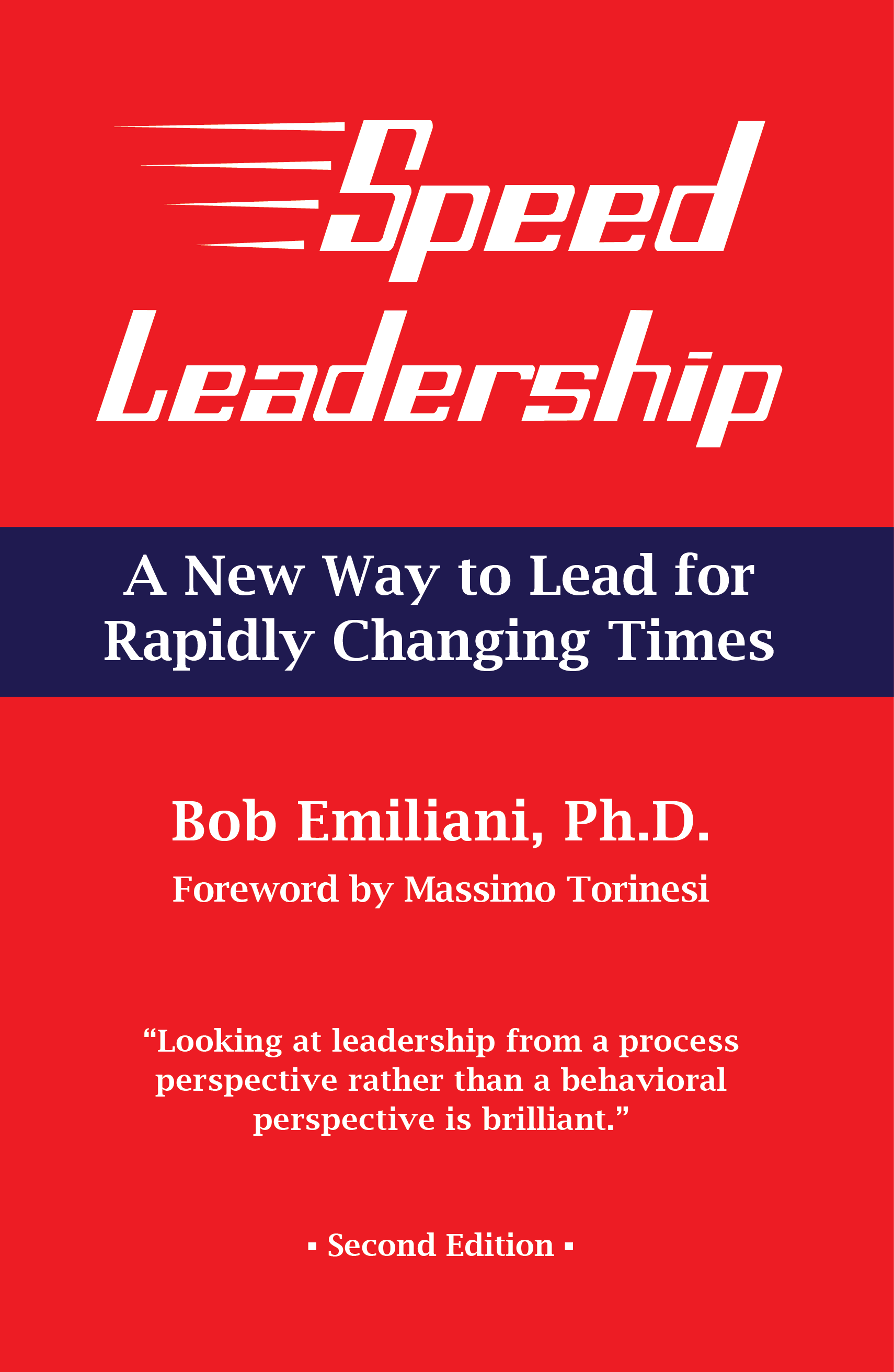 Speed Leadership represents a significant step forward in the study and understanding of leadership and in the improvement and efficacy of leaders' skills.
This new and very pragmatic approach, breaks leadership down into a set of processes, thus breaking through the obsolete vision of abstract and difficult to apply models such as "Great Man" theories and the like.
The active participation of the attendees together with their considerable professional experience and intrinsic value as human beings, created moments of complicity and of lively debate and reflection, enriched by an enthusiastic exchange of ideas.
The basic idea expressed in this book (Speed Leadership) reflects a frustration that most, if not all of us have had to endure. Namely, the boss tells us how important leadership is to the success of the organization, yet the boss is a very poor leader. Leaders also say that processes must be improved, especially your processes, and imply that there is nothing about the boss's work processes that need to be improved. Most leaders exempt themselves from improving their own work. The double standard is both obvious and disrespectful of people.
(Bob Emiliani – The Back Story – Speed Leadership – blog entry posted 07/09/2015)
In a world that moves at Internet speed, leadership anchored to outdated models will slow an organization down, produce defective procedures, de-motivate people and create the right conditions for future problems. A new and more effective business management model is therefore required, a model in line with the challenges companies are going to have to face.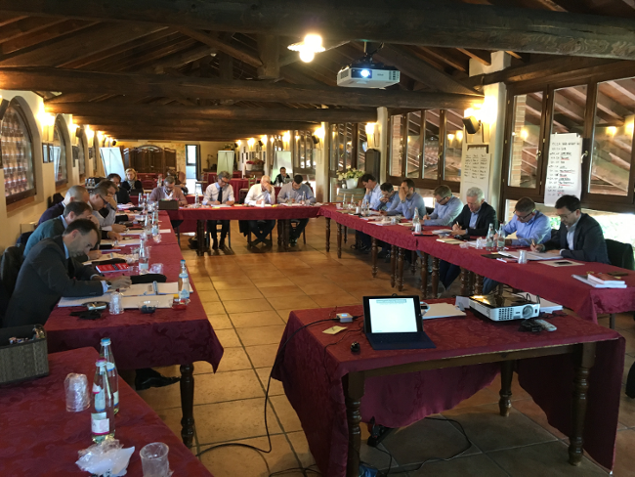 My thanks, as well as Bob's, goes to the workshop participants, who made such a valuable contribution to its success and with whom we took the opportunity to enjoy top-class and extremely interesting conversations.
Your comments, suggestions and ideas will be a source for future improvements; they triggered insights and exchanges of opinions between Bob and myself.
We have identified promising future progress and analyses, as well as developments in new directions.
I believe there will be something new to come yet …
REAL LEAN vs FAKE LEAN – LEAD Talk
Thursday 19th May, an extraordinary event with approximately 150 people, celebrated the "First Ten Years of Kaizen" in Cielo e Terra, in their company headquarters in Montorso, Vicentino.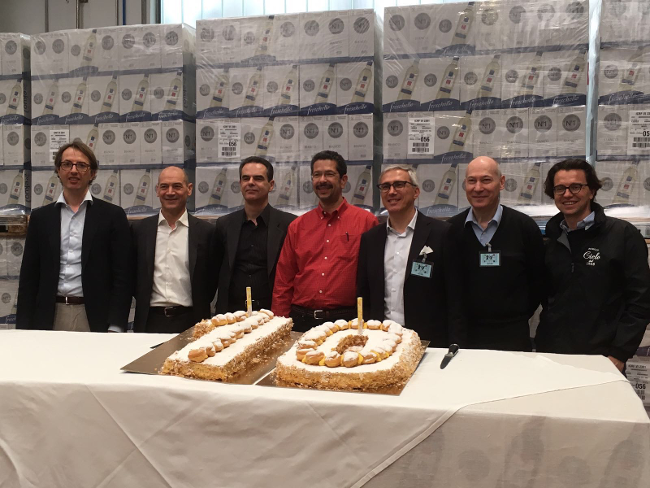 Cielo e Terra opened its doors to visiting guests, organizing the event in a splendidly decorated area inside the production facility, enabling office staff and plant workers to join in.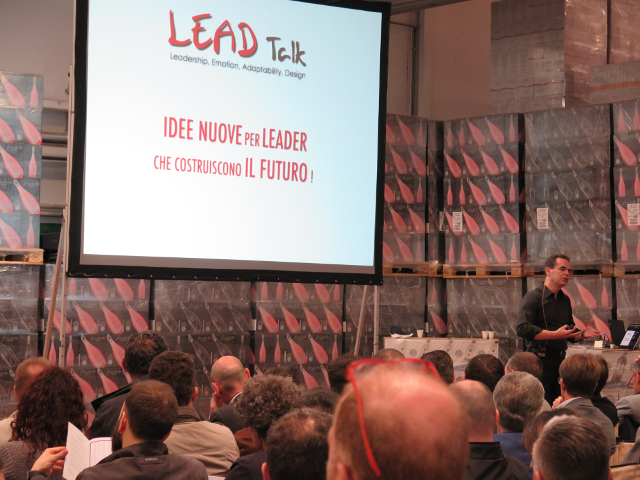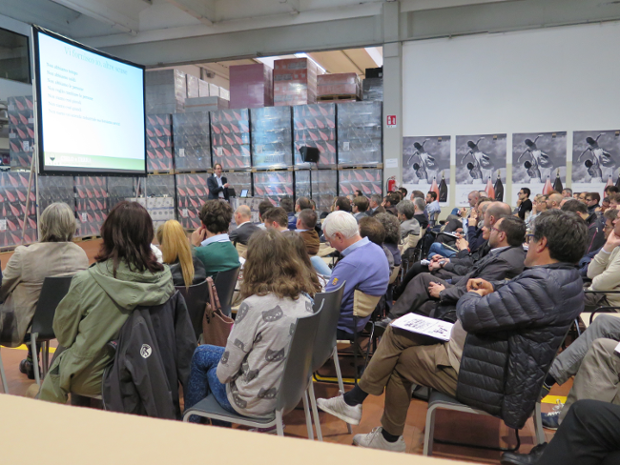 Cielo e Terra has been successfully applying Lean Management principles for ten years. This was been an ambitious choice to make, consistent with the dynamic and discerning nature of the Cielo family business, since it began with the stablishment in 1908 of a Cielo e Terra wine cellar on a small estate in Montorso Vicentino. Cielo e Terra is the first wine company in Italy to have embarked on the Lean route, our direction being one of ongoing improvement, thereby achieving great outcomes in terms of increased productivity, product quality enhancement and improvements in the working environment.
(dal Comunicato Stampa del 10 maggio)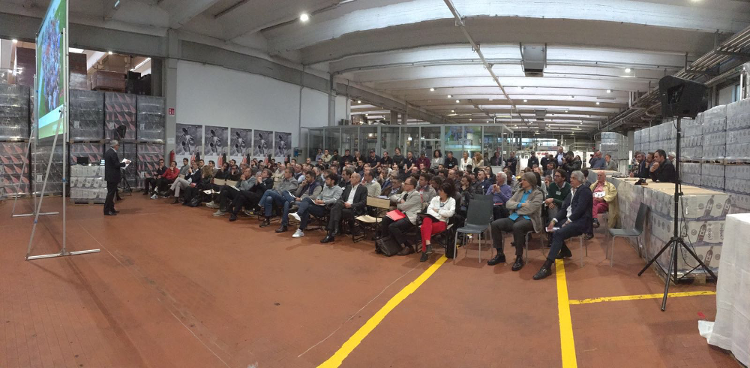 Luca Cielo, Cielo e Terra's General Manager, described how the company has developed, and outlined the strategy which has enabled continuous growth, strengthening and expanding Cielo e Terra's position in foreign markets and improving company performance. He emphasized the values that have set Cielo e Terra apart as an organization in which the central role is played by people.
Giampietro Povolo, Cielo e Terra's Finance & Operations Manager, gave a re-run of the main activities carried out and of the operational results achieved by over many years of steady work and hard effort.
And thus, Continuous Improvement and Respect for People have become the two fundamental principles of a process begun years ago which has completely transformed the business, a process generated by a strategy designed to change the business model.
Luca Cielo and Giampietro Povolo didn't speak exclusively about success and results, but also about the difficulties they have had to overcome and manage over the years, offering everyone present a concrete and authentic description of the radical changes created.
Another important part of the event were the Cielo e Terra employees. With passion and dedication these people have made a fundamental contribution to Cielo e Terra's accomplishments.
Cielo e Terra have thus demonstrate with facts and … figures, that a certain kind of organization can be created, characterized by a setting which pays attention to business whilst also paying attention to values, to people, to the environment and to the local community.
Solidarity initiatives, attention to a sustainable use of resources and of the environment (internal and external), a caring attitude towards people and business development, create a set of mutually supporting and sustaining elements and represent a way of doing business which does not overlook certain values but which instead exemplifies them in the running of the company.
Bob's original and authoritative speech lit up various aspects of "Lean" that have for too long and by too many experts been neglected. Bob's speech gave us an opportunity for a special pause for thought on the causes of some of the many failured attempts at its application and on the factors necessary for changing this.
We both share the idea that a certain type of "Lean", one that has now become commercialized and self-reverential, is over. Its ineffectiveness – even if concealed – is obvious.
It's a "Lean" that has and still can do damage and from which we want to stay well away from.
So, it was an afternoon full of ideas, reflections and concepts for constructing potential paths of growth and development.
If I were to select a few adjectives to describe Speed Leadership and the Montorso event, I would pick emotion, participation, intensity, ideas, creativity and people …
A personal note
I must express particular personal appreciation to Bob Emiliani for his openness, dedication, awareness and commitment in all the various activities that took place, at such intense rhythms.
What I appreciate about Bob, apart from his great humanity and intelligence, is his ability think rigorously and deeply in new ways. These qualities do not always receive recognition from the world of officialdom because they represent potential threats to the status quo.
We share a common desire to give our small contribution to improving the world .
Thanks for everything, Bob! Keep it up!
 
Think Differently
A company, like a jazz band, must co-ordinate the efforts of many, so that the music produced is of quality and this takes:
Respect and Trust: Here is what jazz teaches us. In the best musicians you can sense the respect they have for each other's talent; after all, rhythm section aside, the musicians spend more time listening than playing. And, including the rhythm section, you can see the trust they have in each other in the way they constantly respond to what one of them has just created.
(Wynton Marsalis – cited work)
Competing in difficult times like the present requires an ability to act and think differently:
Creativity is not something you have to earn, you've had it since you were born. All you need to do is recognize it and give her free rein. Every human being on earth has received the gift of creating, and that creativity is manifested in billions of ways. There are no laws or rules. Creativity is unregulated. Like a dream, you cannot decide which one to have. You can only choose which part of the dream to tell. (Wynton Marsalis – cited work)
The managers and business owners we met – the Speed Leadership Workshop – and the people of Cielo e Terra and their managers, all decided to tell their part of the dream. Because it is precisely from a dream everyone shares in that a big business starts out.
But there is also a personal lesson here for those who have the huge responsibility of leading an organization:
Mistakes are useful in establishing a dynamic relationship with yourself. When you get up after a colossal setback or a miscalculation of embarassing magnitude, you develop an epidermal thickness so that you can put forward your creations to others. And you learn from practical experience the difference between facts and theory. Respect for your own creativity – what you can do and the tools you have in hand – is the first step towards the unstoppable growth of personal productivity. (Wynton Marsalis – cited work)
The best musicians know that music has nothing to do with "schools." As my father says: "There's only one school, the school of "Do you know how to play?" And it is made up of individuals who can honestly answer yes to that question. (Wynton Marsalis – cited work)
We have seen managers, business owners and people who "know how to play".
In order to "learn to play" successfully we must return our focus to things that matter, apply effort, learn and improve. Other schools of music only produce squeaky sounds.
This has been an unusually long post, but this moment of sharing intense emotions and thoughts about an incredible week has gone well.
And so he said: "What more do you want? Why do you try to pretend being what you are? Be what you are." This was for me one of the most crucial lessons on creativity. Be yourself, develop your own ideas, create your own dreams. (Wynton Marsalis – cited work)
Dream, play and … design a better world!
Keep it up!
Have a good week
Massimo