Leadership and Santa Claus. Get him to bring you the toy that changes the world!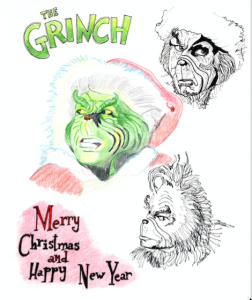 Just a few more days to go and it'll be Christmas.
Epistles are being penned to Saint Nick or Baby Jesus, on 'letters to Santa' apps (if they don't already exist, they sure as eggs are soon will!) to get them off quickly from a smart phone and Santa now delivers through Amazon. Signs of a changing world.
Has he suddenly lost it, looking for a link between leadership and Kris Kringle?
Or could he have something surprising in mind?
What could there possibly be in toys that might be of use to a person in a managerial role or responsible for heading a company?
First and foremost, and just for the record, we should never lose the ability to be surprised.
It is essential to see usual things with new eyes (innovation?) and, as Pope Francesco says: Be not afraid of surprises that shake you up, fling you into a tailspin, but get you moving.
The unexpected sweeps us off our feet but sets us in motion. In other words, surprise calls for action.
And acting is imperative to making a difference.
If nothing surprises you, there is nothing surprising about you!
Surprise is something few companies are capable of; being able to come up with products and services characterised by features previously unimagined that will cause existing and new clients to literally fall in love with them.
Surprising and experiencing surprise are necessary for innovation and corporate expansion.
Christmas also brings Grinch to mind.
Grinch is a monster who enjoys being bad and destroying Christmas for children, stealing toys and decorations, without realising that Christmas resides not in money but in peoples' hearts. (Wikipedia)
Every Who Down in Whoville Liked Christmas a lot…
But the Grinch,Who lived just north of Whoville, Did NOT!
The Grinch hated Christmas! The whole Christmas season!
Now, please don't ask why. No one quite knows the reason.
It could be his head wasn't screwed on just right.
It could be, perhaps, that his shoes were too tight.
But I think that the most likely reason of all,
May have been that his heart was two sizes too small.
Whatever the reason, His heart or his shoes,
He stood there on Christmas Eve, hating the Whos,
Staring down from his cave with a sour, Grinchy frown,
('How the Grinch Stole Christmas' by Theodor "Dr. Seuss" Geisel)
Many organisations are reminiscent of Grinch's hollow: closed environments, somewhat run-down and dusty, where you can't laugh or play, where people must only be bent on working or pretend to be busy. In such companies, all smiling is abolished by regulation.
Some "bosses" are like Grinch himself, with a heart at least two sizes too small they do not know how to manage emotions, their own or those of their fellow workers, they are moody (meteoropathic is the term I have used in previous posts), afraid and tyrannical, creating dark and shadowy atmospheres akin to Grinch's cave on Mount Crumpit. They don't know how to inspire…
However, change is possible:
And what happened then? Well…in Whoville they say,
That the Grinch's small heart Grew three sizes that day!
And the minute his heart didn't feel quite so tight,
He whizzed with his load through the bright morning light,
And he brought back the toys! And the food for the feast!
And he, HE HIMSELF! The Grinch carved the roast beast!
('How the Grinch Stole Christmas' by Theodor "Dr. Seuss" Geisel)
Dear Grinchy Manager,
You can, if you decide upon it, manage yourself and others differently, although bear in mind that it will take a bit of effort and you will have to work on it. Sound interesting? Open your heart and you will feel less oppressed.
At Christmas time we exchange presents and give children toys: our biggest toy is our brain, once said Charlie Chaplin.
Let's give ourselves then the gift of being able to stop and reflect, think and experiment which, as in play, will generate satisfaction, fun and success, problem resolution and remedy discovery. And if we give this gift to our workers, we will indeed become unbeatable at producing original solutions and new ideas.
I was at a staff Christmas party of one of our clients recently and the owner, an entrepreneur of great talent and genius, in his speech regarding the year now drawing to a close, said: competition is not a question of capital but of cleverness.
The future and success belong to those organisations able to make intelligence their ultimate strategic ability.
Not money, not technology, but intelligence.
Intelligent, creative and innovative companies that are going to win. The ones that learn faster than others.
Forming an intelligent company, one that does not operate on just one brain – the "one man show", means making the most of the skills, abilities and minds of every person working there.
And here we are having come this far, to another end of a year, a moment befitting of greetings and best wishes.
For us at Heiko Xplore it has been a very busy year, full of satisfaction, lots of new things and projects for the new year.
Innovation is not something we talk about, we do it!
Most importantly, I thank you, our dear reader friends, for your consistency and patience in following me in these weekly explorations around the edge of the impossible.
Your participation and the time you take to read my reflections prompt me to constantly aim to do better.
My heartfelt encouragement goes to those of you who are putting all your energy right now into making significant change happen either at a personal or organisational level, in your brave efforts at making new ways of doing business materialise; to all you business owners deploying drive and determination in order to take your companies to the next level, including all your employees in the process (even though it is you yourselves who, all the while, are the principal protagonists in this process, behaving as examples of change that can and does happen); to you readers who refuse to give up; taking forward your ideas each and every day with passion, commitment and sacrifice.
To all of you crazies, anti-conformists, rebels, troublemakers, all of you who see things differently and challenge the status quo. Don't give up! You have chosen a demanding and difficult path that will sometimes sap your energy. But it is the right road to take, and the rewards and success will come. Be strong and brave.
Let's face the future and the coming new year with energy, optimism, courage and determination, everything will turn out right in the end. If it doesn't, it isn't the end. (John Lennon)
Our brains, along with our hearts and intelligence, are the toys that can really change the world. Using this toy for such a reason, one of the loftiest and most noble purposes imaginable, fulfills our potential, and that of others, and ensures a future of prosperity and growth for our businesses in a world in incredibly rapid evolution.
My biggest wish is that the future be yours.
The future belongs to those who believe in the beauty of their dreams. (Eleanor Roosevelt)
Have then the courage and spirit to dream!
To you, your families and those you work with, heartfelt greetings for a Happy Christmas and a Happy New Year!
See you in January for new projects and ideas!
Happy Holidays,
Massimo and the Heiko Xplore team.